WHAT IS A TOAD?
WHAT IS THE DIFFERENCE BETWEEN A FROG AND A TOAD?
Toads are Amphibians
Frogs & toads and salamanders are amphibians. Amphibians have glandular skin and no claws on their toes. They pass through a larval stage before changing into (metamorphosing to) adults. Salamanders have a tail; their larvae are shaped much like the adults. Frogs & toads have no tail and start life as tadpoles, which are very different from the adults.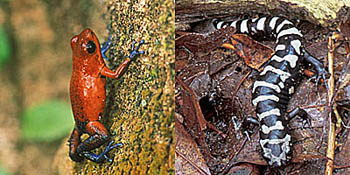 Two groups of amphibians: frogs and salamanders
True toads are members of the family Bufonidae. This is one of many families of frogs. Most toads can be distinguished from frogs by their dry warty skin, shorter legs, and a pair of parotoid glands on the head.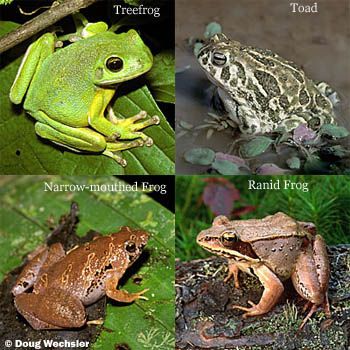 Representatives of four frog families
Most toads have dry-looking, warty skin. The warts behind the eyes are called parotoid glands. They secrete toxins that deter many predators. Wash your hands after handling toads. Handling them won't hurt you, but you don't want to put your fingers in your mouth afterwards.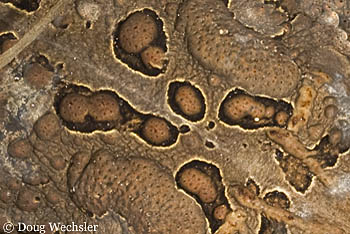 Closeup of warty toad skin
What is the difference between a frog and a toad? The frog on top has smooth, moist skin and long legs for jumping. The toad below has dry, warty skin, and short legs for hopping. It is easy to tell a frog from a toad, but this pickerel frog seems to be having trouble with this simple concept. Outside North America, the differences are not always so clear cut. See Toads Worldwide.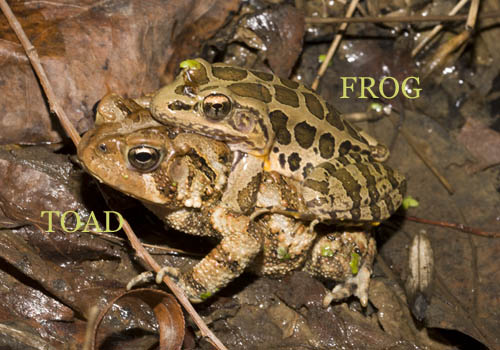 Pickerel frog tries to mate with American Toad.
Toads in North America belong to the genus Bufo.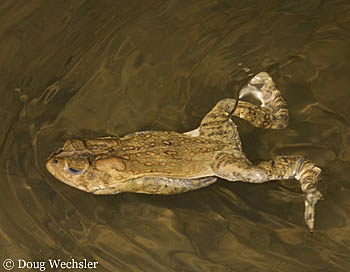 American Toad swimming (Bufo americanus)
Some other groups of frogs that look like true toads are also called toads. Spadefoot toads are not true toads, but they share the common name "toad" even though they belong to another family of frogs.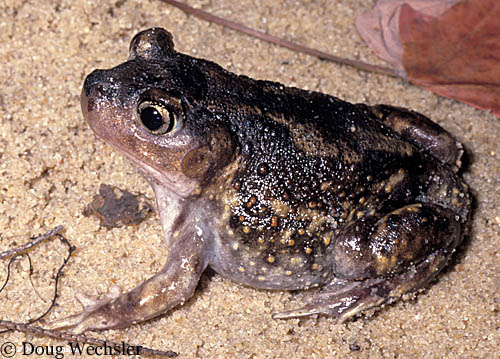 Eastern Spadefoot Toad (Scaphiopus holbrookii)